Absolute Beginner in Freight Brokering? Here's Your Guide!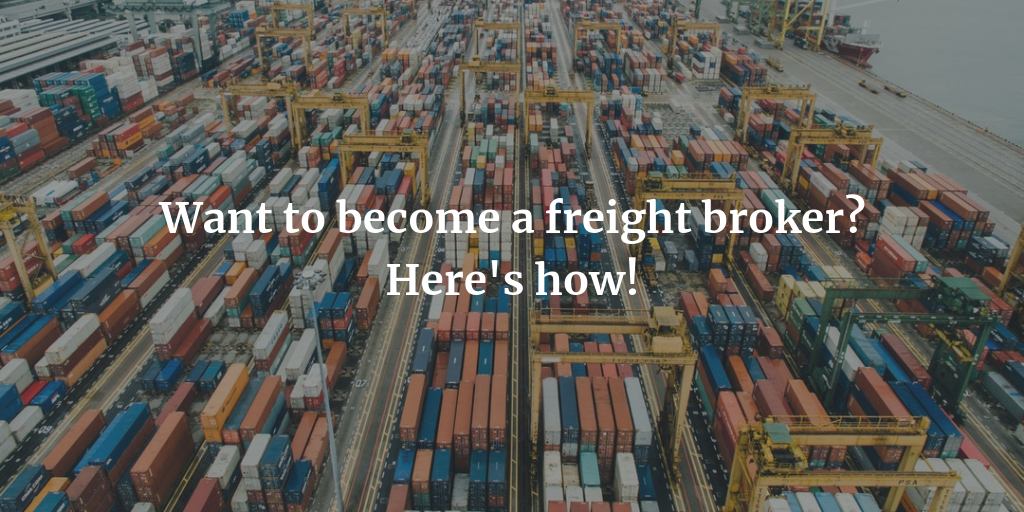 The steady growth in the economy has also meant growth for the freight industry. According to the Bureau of Transportation Statistics: "In 2013 the U.S. transportation system moved a daily average of about 55 million tons of freight valued at more than $49.3 billion."
The growth of the transportation industry and its significant share in U.S. GDP has also meant that more and more freight brokers have entered the market, offering their services and capacities. Figures from the Federal Motor Carrier Safety Administration (FMCA) show that in November 2016 there were a total of 16,875 active licensed brokers in the U.S. and counting. That's nearly 1,000 more than a year earlier. The good pay and conditions of the job have made freight brokerage an enticing prospect for many, and this trend is expected to continue.
If you are new to freight brokerage, the following guide is just for you! Read our 'Freight brokering for absolute beginners' guide for an introduction to the industry and business of being a freight broker!
What do freight brokers do?
Freight brokers are an indispensable part of the freight industry, helping it grow and function.
The main role of brokers is to serve as a link between shippers and carriers. They work with shippers by finding carriers for them who will transport their goods or cargo to a particular destination. They also negotiate the rates on behalf of the shippers and the delivery times. In turn, they try to ensure full and regular loads for carriers that are along their preferred routes and destinations.
But their job doesn't stop here. While they are called brokers, they actually oversee the whole process – from the initial order to the freight reaching its final destination. That includes tracking the freight, keeping records of transportation times, pickups, deliveries, and so forth.
Brokers are a bit of legal experts as well, as they need to be familiar with shipping and handling procedures and regulations or, depending on the type of freight, toll regulations and more.
In return, brokers can make between $30,000 and $90,000 a year, depending on the type of freight they deal with and the amount of business they do. This places most brokers above the national median income or even above the average household income.
But how to become a freight broker? And what's a freight broker bond?
How to become a freight broker
To become a freight broker, you have to get a license. As part of this process you will need to:
Register your business with the Secretary of State

Register with your State Tax Department
Register with your State Department of Transportation (if you will also operate as a carrier)

Obtain operating authority from the FMCSA

Appoint a process agent in each state you do business

Set up an office

Obtain a

$75,000 freight broker bond
These are the main requirements you will need to cover in order to get started as a freight broker. The bond requirement is quite central among them.
What is a freight broker bond?
One of the most important requirements to becoming a freight broker is the surety bond which all brokers must obtain.
The bond is an agreement between:
The broker (the bond principal)
The clients of the broker and the state government (the bond obligees)

The surety bond company
This agreement provides a financial guarantee to the obligees. It requires the broker to comply with the bond terms, state and federal statutes and regulations. Should the broker violate these terms and act dishonestly, bond obligees can file a claim against the freight broker bond and obtain compensation for the damages and losses they have suffered. Compensation is paid out by the surety bond company which has provided the bond.
This makes the bond a bit like a line of credit. As with any line of credit, if compensation is paid out under the bond agreement, the broker must then repay the surety in full for the compensation. Bond claims can be costly and damaging to the reputation of the brokerage company, which is why they should be avoided at all costs.

But what does it cost to open a brokerage and obtain a freight broker surety bond?
The costs of becoming a freight broker
The cost of opening a brokerage is not a fixed sum but will depend on your particular situation. For an overview of the most important costs you can expect to have, have a look at our breakdown of the top 7 costs of becoming a freight broker.
Altogether, to get started as a broker, you can expect to pay somewhere between $3,800 and $5,300. This includes your registration costs, your freight broker bond cost, your equipment and software costs, your operating authority costs and others.
Estimate your surety bond cost with our free surety bond cost calculator.
Surety Bond Cost Calculator

Tell us where to send you your
FREE

estimate

SEND ME MY ESTIMATE!

We'll never share your information with third parties

Thank you

for your request!
The ballpark estimate on your premium is: $100 - $167
We've sent a copy of your estimate on your email as well.
Want an exact quote? Simply fill out our online application It's fast and 100% free!
Get a free exact quote
Get another estimate
But there are also ways of lowering your costs! While licensing costs are fixed, the cost of your freight broker bond will depend on you as an applicant and your financial status. Learn more by reading our article on how to lower your freight broker bond cost: 7 great tips.
What makes a freight broker successful?
The qualities that make a freight broker successful are related to how you deal with clients (carriers and shippers alike), how you handle stressful situations and whether you have an attitude of wanting to learn more every day and providing the best possible service.
Since the broker is the middle-man between shippers and carriers, he or she must be a reliable and trustworthy person. Honesty, transparency, being proactive and customer-oriented are all important keys to becoming a successful broker and pay off on a daily basis.
Of course, developing the right professional competencies and capacities are just as important but those are only one part of the story!
Want to know more about becoming a freight broker?
If you have any questions about becoming a freight broker or need help with getting your freight broker bond, just call us at (866) 450-3412! We will be happy to provide you with advice and assistance!
---