New Bill Increases New York Used Car Dealer Bond Amounts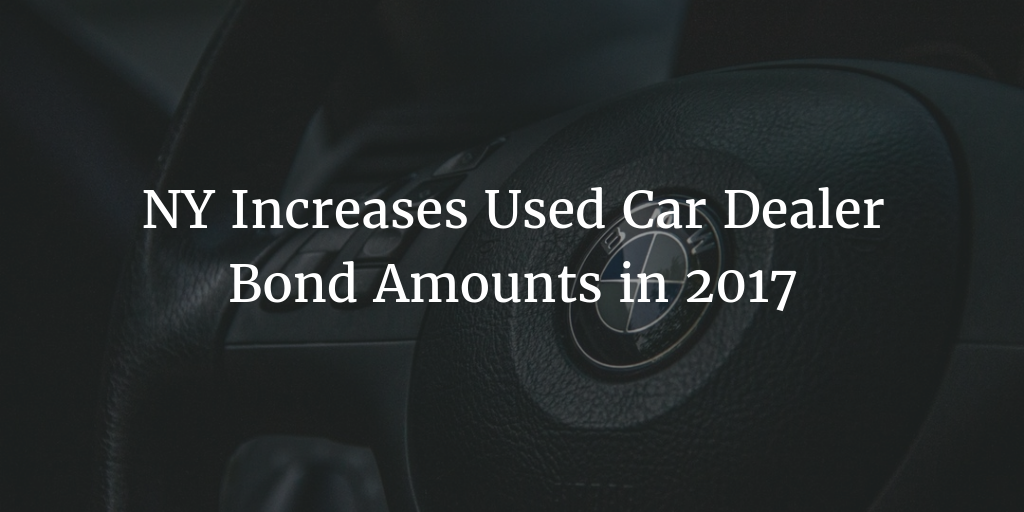 New York Assembly Bill 8166 which was passed on September 29 includes a provision that increases the amounts of New York auto dealer bonds for used car dealers. The Bill also lowers the vehicle threshold for the different bonds.
Read the details below!
Higher Used Car Dealer Bond Amounts in New York
Assembly Bill 8166 will come into effect on March 28, 2017. After that date, anyone who wants to obtain, renew, replace, alter or extend their used car dealer bond in New York will have to comply with the new requirements. These are as follows:
New dealers and dealers who sold up to 50 vehicles in the previous year will have to obtain a $20,000 surety bond.

Dealers who have sold upward of 50 vehicles in the preceding year will have to obtain a $100,000 surety bond.
Currently, bond amounts are $10,000 for dealers selling up to 200 vehicles per year and $25,000 for those selling upward of 200 vehicles per year.
The Bill also requires sureties to notify the commissioner at the New York State Department of Transportation 60 days prior to a bond's expiration and provide additional notice on the date of cancellation.
Why the Increase?
Usually, bond amounts are changed after careful consideration on the side of legislators. Since the Bill does not explicitly state the reasons for this increase it is not entirely clear why amounts were raised.
One of the reasons to increase bond amounts typically is that current amounts do not provide sufficient coverage for potential claims that may arise. If this is backed by a history of insufficient compensation being made available to claimants, legislators may take more serious measures such as this one.
How Much Will Bonds Cost Now?
The increase may create difficulty for some dealers since it raises the cost of obtaining the bond. At the same time, surety bond cost depends on a variety of factors with personal credit score having the highest importance.
Dealers with perfect credit score can still expect to get a bond at the lowest rates. This also applies to those who have been able to improve their score since they got bonded the last time around, meaning that they will have to pay a lower percentage of the total bond amount.
To get an estimate how much you might have to pay when you renew or obtain a New York used car dealer bond check out our surety bond cost page and try the surety bond cost calculator.
Share your thoughts regarding the bond increase in the comments section – we'd like to know what you think of it. And when it's time to post your auto dealer bond next year, be sure to apply with our simple 1-page online application!
---