New Surety Bond Requirements for PA Recreational Vehicle Dealers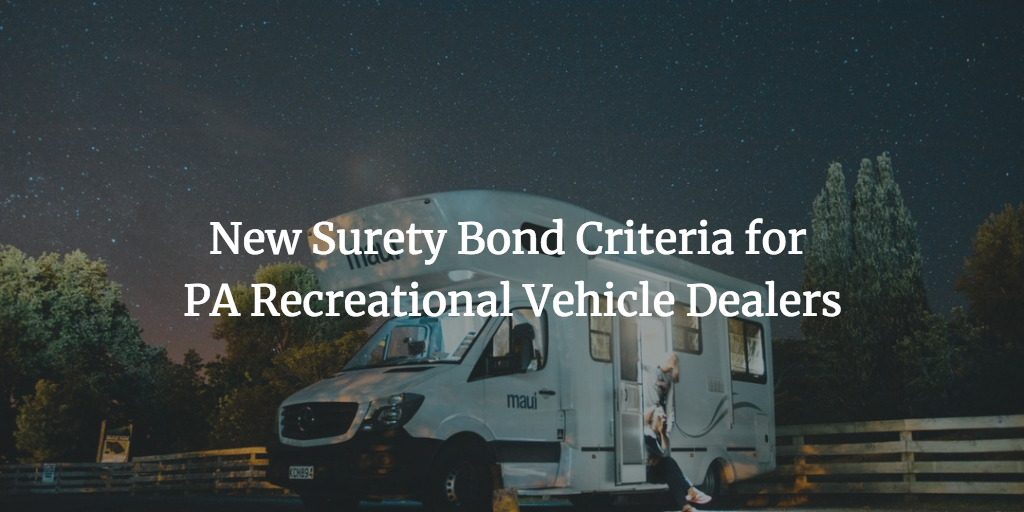 Pennsylvania has recently enacted new rules for recreational vehicle (RV) dealers. With Senate Bill 764 legislators in the state have created a complete legal framework for the functioning of RV dealerships. The new legislation also increases the scope of the auto dealer bond requirements that aspiring dealers should meet.
The new bill provides a definition of a recreational vehicle as a "A vehicle which is either self-propelled or towed by a consumer-owned tow vehicle and designed to provide temporary living quarters for recreational, camping or travel use." In addition, the text gives six types of RV, which include motor home, travel trailer, fifth wheel travel trailer, folding camping trailer, truck camper, and park model RV.
The new PA RV dealer bond requirement
Dealers who want to sell RVs have been previously required to obtain a $30,000 surety bond. With the legal changes, any dealer who wants to organize vehicle shows, exhibitions, rallies and sale of such vehicles off-premises will now have to comply with the same bonding requirement. In case a RV dealer is already bonded, they don't need an extra bond to engage in such activities. The bond is required by the Pennsylvania Department of Transportation's Driver and Vehicle Services.  
Getting bonded
In general, the purpose of the bonding is to guarantee the legal compliance of the bonded party. In this case, the auto dealer bond ensures that dealers who organize such events will follow the law in their operations and will make all due payments they owe. A bond claim can be brought against a bonded dealer who fails to comply with applicable rules and regulations.
In order to get bonded, dealers should cover only a small percentage of the bond amount. Typically, if your finances are in good shape, you would get a bond premium in the range of 1%-3%. The major factors that influence the bond cost include the strength of your personal and business finances.
Have more questions about the new bond requirement for RV dealers in Pennsylvania? Don't hesitate to reach us at 877.514.5146.
---