Pennsylvania to Regulate Online Gambling, Require Surety Bonds as Security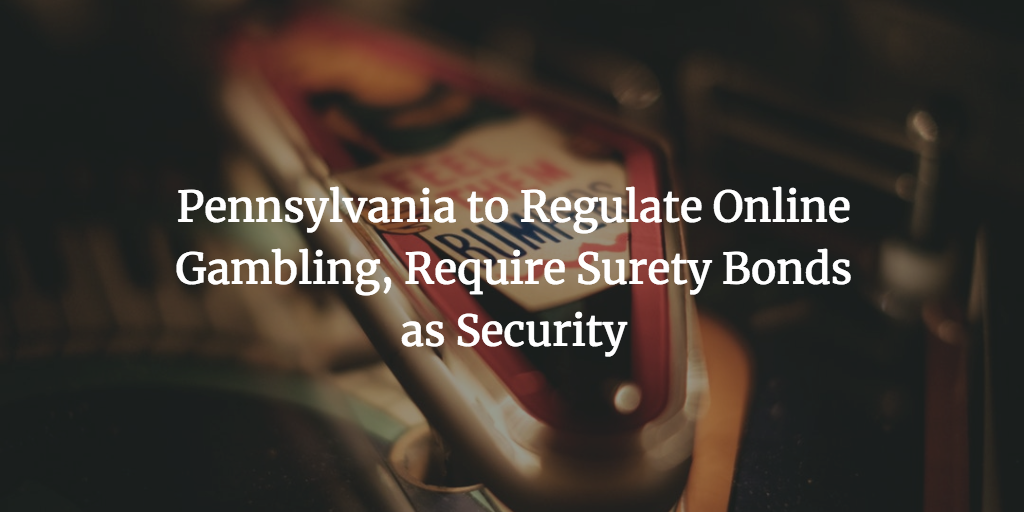 Pennsylvania has adopted a new bill that regulates sports gambling and in effect allows fantasy sports in the state. House Bill 271 was passed in 2017 and is applicable as of the end of April 2018.
The law makes online sports betting legal in Pennsylvania. This lists it among one of the many states that have already legalized daily fantasy sports, or are steadily moving towards its legalization. The bill places the Pennsylvania Lottery in charge of handling the field.
Together with the legalization, legislators are introducing specific requirements for licensees who want to operate slot machines and for daily fantasy sports. Fantasy sports operators may now have to post a surety bond. Slot machines operators also need to meet a bonding requirement.  
Below are the most important details that gambling operators in Pennsylvania should know about the new law.  
The main points in House BIll 271
Some specialists have dubbed Pennsylvania's new gambling law as one of the largest legal expansions in the field. The bill allows the creation of new casinos, operation of video gaming terminals (VGTs) at some truck stops, and tablet gambling on airports. It also authorizes the state lottery to sell tickets online.
Notably, the bill makes fantasy sports legal, as well as online betting from various tech devices. For daily fantasy sports operators, this is a major development in the state. Pennsylvania thus joins a number of other states which have introduced a legal framework for the newly developing online gaming field. Now it will require daily fantasy sports operators to obtain a license and post a surety bond. Licensing and bonding requirements also apply to slot machines operators.
With the new law, legislators are aiming to bring better regulation in gambling. In the same time, they also preview significant potential income for the state budget. Only in its first year, the bill is expected to generate $234 million in application and license fees.
The new licensing and bonding requirements
Fantasy sports operators will have to get a state license to operate in Pennsylvania. They will have to undergo a rigorous process and pay a $50,000 licensing fee. The license is active for five years.
One of the main criteria they will have to meet is to keep a financial security equal to the amount of fantasy game players' deposits. In this way, the state wants to ensure that operators keep players's funds separate from their operational funds. The security can be in the form of a surety bond or another instrument. A season-long fantasy contest operator whose revenue is below $250,000 may be exempt from this requirement and may be able to use an escrow account instead. Slot machine operators will also have to get a state license and post an appropriate bond.
The new law imposes a financial security requirement for auctions as well. If the Board conducts auctions, each prospective bidder will have to provide a surety bond or an irrevocable letter of credit in an amount of minimum $7.5 million, which is the lowest possible bid.
To get bonded, you would not need to obtain the whole bond amount. Instead, your surety bond price will be only a percentage of the required sum. This means that even for large amounts, you will pay as low as 1%-5% of them to obtain the required bonding.
What are your thoughts about the new gambling law in Pennsylvania? How do you see its impact? Please share your comments below.
---