Table of Contents
Typically, your surety bond cost is an annual payment depending on the type of bond and the state which requires it, as well as other factors such as the personal credit score of the applicant. Good credit applicants pay around 0.75% - 2.5% of the total bond amount, while bad credit premiums range from 2.5% to 10%. This means, for a $25,000 bond you will only have to pay between $187 and $625 a year if you have good credit and between $625 and $2,500 if you have bad credit. Contract bonds are considered high risk, which means their premiums can often exceed 10%.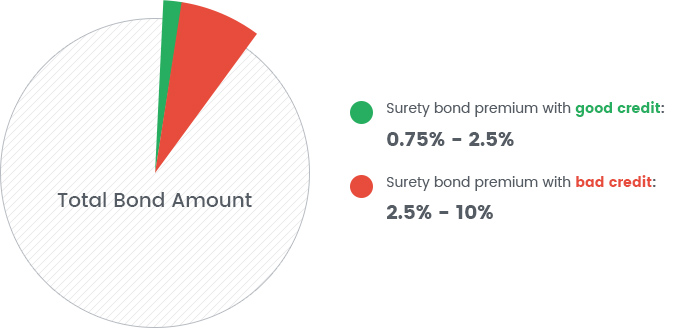 Watch this short video which explains surety bond costs in further detail.
Surety Bond Cost By Credit Score
The applicant's credit score is considered the most important factor for determining the price they end up paying, also called the surety bond premium. Here's how your premium will look based on your personal credit score alone.
Surety Bond Cost Based on Credit Score
Applicant's Credit Score
Surety Bond Amount
700
650 - 699
600 - 649
550 - 599
549 and under
$5,000 Surety Bond
$100
$100
$125-$250
$250-$375
$375-$500
$10,000 Surety Bond
$100
$100-$300
$250-$500
$500-$750
$750-$1,000
$15,000 Surety Bond
$112.5-$225
$150-$450
$375-$750
$750-$1,125
$1,125-$1,500
$25,000 Surety Bond
$188-$375
$250-$750
$625-$1,250
$1,250-$1,875
$1,875-$2,500
$30,000 Surety Bond
$225-$450
$300-$900
$750-$1,500
$1,500-$2,250
$2,250-$3,000
$50,000 Surety Bond
$375-$750
$500-$1,500
$1,250-$2,500
$2,500-$3,750
$3,750-$5,000
$75,000 Surety Bond
$563-$1,125
$750-$2,250
$1,875-$3,750
$3,750-$5,625
$5,625-$7,500
$100,000 Surety Bond
$750-$1,500
$1,000-$3,000
$2,500-$5,000
$5,000-$7,500
$7,500-$10,000
Factors Determining Surety Bond Prices
While the most important consideration is the applicant's credit history, there are several other factors that can influence your surety bond costs. Such factors include your industry experience, the availability of liquid assets as well as your personal and business financial records.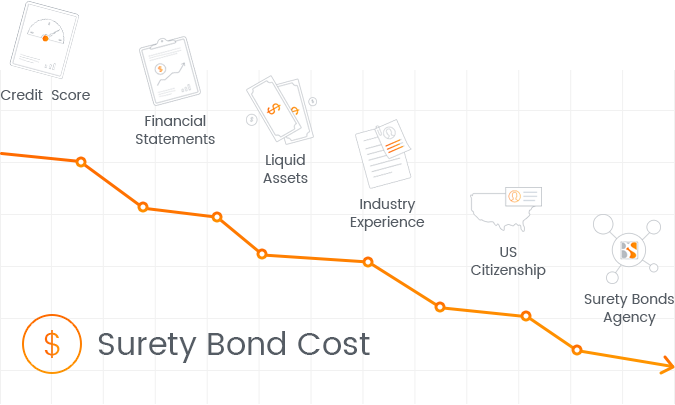 Surety bond premiums are usually divided into two categories: standard market premiums and high-risk premiums (for applicants with bad credit).
Standard Market Surety Bond Cost
Standard market applicants are considered ones with a FICO score of 650 or above. They pay lower premiums, because surety bond underwriters assume a lower risk when underwriting these surety bonds.
As mentioned in the beginning, usually a good credit score can result in a premium lower than 1% of the bond amount.
Bad Credit Surety Bond Cost
Applicants with bad credit, tax liens, civil judgments or past bankruptcies are considered high risk.
Many surety bond agencies decline to work with these applicants. However, through our bad credit surety bond program it is possible for you to obtain a surety bond, though at a slightly higher premium.
The cost of a high-risk surety bond will typically range between 2.5%-10% of the total bond amount. Keep in mind that by improving your credit score over time, you can reduce the amount of your premium from one year to the next.
Surety Bond Cost Saving Tips
The surest way to get a lower premium is by improving your credit score. That being said, this is not always an easy task, so there are other things you can do that can help you save money on your bond.
Financial Statements
If you can demonstrate both strong personal and business financial statements, sureties will know you are capable of repaying potential claims, so this will lower your premium.
Liquid Assets
Cash on hand and the availability of other liquid assets are factors that signal financial strength. If you have uncollected debts, consider claiming them before applying for a surety bond.
Industry Experience
If someone has been in business for a while, they are likely to be considered as more trustworthy and less likely to trigger a claim. Consider attaching a resume along with your bond application.
US Citizenship
Non-U.S. citizens are considered higher risk because they lack physical ties with the country. Consider getting a U.S. passport if you are doing business in the U.S. without being a citizen.
Surety Bonds Agency
Bonding companies do not work directly with the public, meaning that the choice of a surety bond agency is also very important. Bryant Surety Bonds works with a large network of A-rated and T-listed partner surety bond companies in all 50 states, and can offer you the lowest and best prices.
Besides, a good surety bond agency will help you make the best use of the above tips, so you lower your premium as much as possible.
Learn How Much Your Surety Bond Will Cost Today!
Submit our online application and you will receive a free bond quote from us, which doesn't oblige your in any way. All it takes is 5 minutes.
After that, you can proceed with your application if you wish. If you have additional questions, you can always call us at (866)-450-3412. We will be happy to help you!
Further Reading
---
---
Frequently Asked Questions
Still Have Questions?
Still haven't found the answer you are looking for?
Give us a call at (866) 450-3412 or leave your question below.