How to Become a Car Dealer: An Illustrated Guide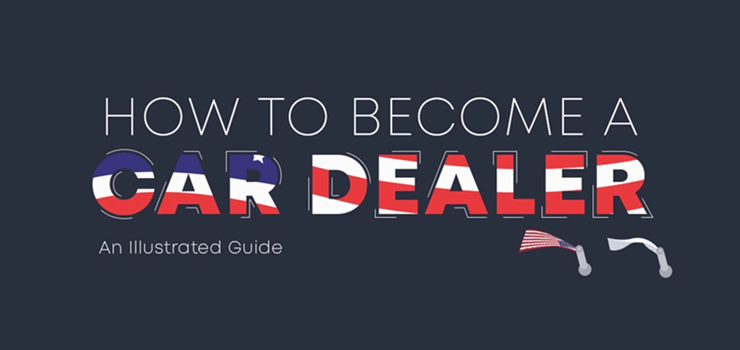 Auto dealerships have traditionally been at the heart of local economies across the U.S. As a car dealer, your job is much more than selling motor vehicles. You need to be a subtle psychologist and a trusted partner for your clients.
Besides being a potentially rewarding profession, running a car dealership can be a lucrative initiative.
If you're considering launching your own dealership in order to maximize profits and run an independent business, your first step is to obtain a license. There are no nationwide requirements, but instead, every state has specific criteria set by the relevant authorities. The licensing bodies often require dealers to post auto dealer bonds prior to being granted the right to operate legally. In fact, there's a bonding requirement for dealers in 48 states.
Find Out Your Dealer Bond Cost
No Obligation - Fast and Secure - All Credit Types
Get a FREE Bond Quote

Instant ballpark estimate

Tell us about your business

powered by

Get your FREE quote today!
Below you can find a quick but thorough overview of the dealer's role, followed by an extensive guide that will help you pass the important steps of how to become a car dealer.
What is the job of the auto dealer?
With the abundance of online options, today people are tech-savvy, well-informed, and more willing to skip the middleman.
So what should progressive dealers do? It's all about adapting to the new reality of people's needs. You have to offer your customers much more than in-depth knowledge about car models or your top-notch persuasive skills. You have to turn into a trusted partner who can help buyers better understand their needs and assist them in making the right choice.
Being successful as an independent car dealer takes a lot of other skills, too. You need to have solid knowledge in business management and planning, as well as organizing customer service, accounting, marketing, and HR tasks. You are likely to have people working for you, which means you need solid communication and managerial skills as well.
In many states, you would be required to undergo a training program before you get your license. This would allow you to gain many of the necessary skills before you jump in the deep water of running a dealership.
Next – here are the steps you should go through if you embrace the prospects of becoming a modern car dealer.
How to start your car dealership
1. Get the training you need
Car dealership training is often required before you are able to get licensed in your state. Even if it is not a mandatory requirement, it may still be a good idea to learn the basics from professionals before you start your own journey.
Beyond the fundamentals of licensing and the legal framework, auto dealer courses can help you grasp the most important factors that affect car sales success. You need a wide range of knowledge and experience to run a dealership, such as communication and negotiation skills, as well as solid business planning and management abilities. You also have to be able to manage additional activities such as accounting, inventory, marketing, and customer services. A reliable training can give you a foundation that you can build on.
2. Craft your business plan
One of the most important tasks you have before you start the legal process of registering and licensing is to prepare your car dealership business plan. If you can afford it, it's best to hire a consultant who can guide you through this process. Among other things, your business plan is where you lay down your strategy, vision, and goals.
The essential points you need to clarify regarding your future car business include:
What vehicles you would like to sell – new or used, or you can even outline the types of vehicles you'd like to focus on. Licensing requirements can vary based on this decision.
In some states, you can operate only online without having a physical office. If you have such a choice, would you like to run a virtual business only, or you'd like to have a brick-and-mortar shop? This, of course, will also be dependent on your budget.
Plan your business location costs.
Detail the types of services you are planning to sell beyond vehicles. Will you offer financing options? What type of servicing will you have?
Outline your marketing plan and the finances it will require.
3. Complete the business entity registration process
The licensing procedures are different from state to state. However, in most places, you need to already have a registered business entity before you apply for a dealer license.
First of all, you need to get a unique business name. Then you have to select the type of business entity you will operate. The options include a sole proprietor, corporation, partnership, and a limited liability company (LLC). If you are planning to hire employees, you will also need an Employer ID Number (EIN) from the IRS.
4. Get acquainted with your state's licensing process
Each state has its own car dealer licensing requirements. Before you continue, make sure you are well acquainted with the licensing requirements for your specific state.
Please select your state below to see the specific auto dealer licensing requirements for your state.

It's important to identify the exact license type that you need to get. Every state has its own classification of licenses depending on the type and number of vehicles sold. The different license types typically also have different requirements.
There are a couple of similar criteria that you have to satisfy, irrespectively of which state you're based in and what license type you need. The most common ones include:
Show proof of owning or leasing a business location (if your state requires a physical office). It should meet all state requirements, including the correct size and display and back-office areas. You should also comply with relevant state and local and zoning rules. You'll be typically required to post a visible business sign and hours of operation sign.
Complete personal history questionnaires for all owners and officers.
Provide your business entity documents, as well as other registrations such as your EIN from the IRS.
Undergo a criminal background check and provide fingerprints.
In most states, you have to obtain an auto dealer bond.
Obtain the required amounts of liability insurance.
5. Get your auto dealer bond
Obtaining a surety bond is a common licensing requirement for car dealers in most states.
The auto dealer bond is a security instrument that protects the interests of your customers. It guarantees that you will comply with the applicable laws that govern the trade. In case you fail to do so, the bond can be used to compensate financially harmed parties via a claim. The maximum reimbursement that can be sought is the bond amount that you have provided.
The surety bond cost that you have to cover to get bonded is only a fraction of the required bond amount. It is called the bond premium. For auto dealers with stable finances, the typical bonding rates are in the range of 1% to 3%. This means that if you have to obtain a $25,000 Texas dealer bond, for example, your cost may be as low as $250.
The factors that affect the bond premium include your personal credit score, business finances, as well as assets and liquidity.
Get an exact quote for your dealer bond by completing our application form below. It's free and it takes minutes.
Get Your FREE Bond Quote Instantly
FREE Instant Online Quotes - All 50 States - All Credit Types
Get a FREE Bond Quote

Instant ballpark estimate

Tell us about your business

powered by

Get your FREE quote today!
If you have any questions about your dealer bond requirements, you can always reach us at 866.450.3412.
6. Submit your car dealer license application
When you have prepared all documents that you have to present to your state authorities, it's time to fill in the whole license application.
Double-check all your entries, as incorrect statements can delay or even stop the licensing process.
You also have to cover a car dealer license cost, which is set by the licensing authorities. In most states, once you submit your full application package, you can expect an answer within two to four weeks.
7. Start developing your partnerships
Once you've obtained your state license, you have the legal right to sell vehicles. Even before this point, you can start some negotiations with potential partners. In some places, you need franchising agreements if you're going to sell new vehicles. This means you have to arrange them with the respective manufacturers.
To fill in your inventory, you can also create partnerships with wholesalers and attend auctions. In case you're planning to offer financing options for your customers, you'll also need to set up business relations with financial institutions and lenders.
8. Never stop learning
The automotive industry is changing rapidly, together with the times. You need to stay up-to-date with the industry, technology, and societal trends. You need to be able to adapt your business strategy, as well as your customer service approach on the go.
Some states also place a continuing education requirement for auto dealers. In California and Montana, for example, you need to complete a 4-hour course approved by the state DMV with every license renewal. In the state of Washington, the requirement is a 5-hour continuing education course.
Launch your car dealer business
Having an auto dealership is a dream come true for thousands of Americans. If you'd like to realize yours, it's never too late to start the process. Get well acquainted with the legal and strategic steps you have to undertake so that you're prepared for success.
We've also visualized the above steps in an infographic format. Feel free to share it on social media or embed it on your website using the code below it!

---